Past, Present and Future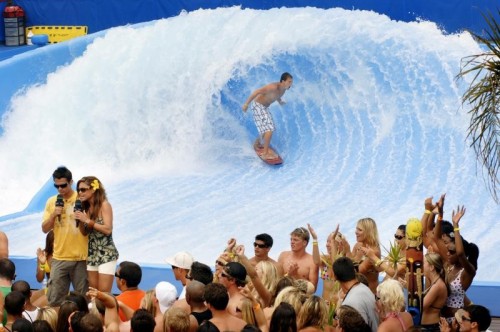 Wave House opened its doors for the first time 2001. The unique combination of sport, music, entertainment, food, drink and retail, was founded by visionary Tom Lochtefeld to be the public playground for his proprietary surf technologies. Tom had the dream of taking the sport of surfing beyond the beach, bringing surf-stoke and the California beach lifestyle to a global audience (both participants and spectators), and ultimately, to create inland oceans and bring surfing to the Olympics. Today, surfing (in a variety of forms) has rapidly gained a foothold in the greater cultural consciousness all over the world, becoming a sought-after sport, lifestyle and community. Surfing is far more accessible today as well than it ever has been, due to the growth of the Internet and 24/7 media, and growth in the artificial wave industry and surfing wave pool technology. With an estimated 35 million surfers worldwide now, surf tourism has evolved into a multi-billion dollar industry expected to reach over $13 billion in revenues by 2017. Surfing apparel and accessories have become fashion trends and the market includes customers who don't actually surf, but want to associate with the lifestyle and sport. Wider demographic clusters than ever before are now participating, due to the increased accessibility and affordability of the sport. However, surfing is still largely limited to people living near the coast or able to travel to the coast, and even then, favorable surf conditions occur only about 30% to 50% of the year and are unpredictable. And it's impossible to control conditions in the ocean so as to cater to varying levels of expertise. Wave House was created to give surfers, and those who want to associate with or be entertained by, the surfing lifestyle, consistent, accessible, affordable, enjoyable access.
It All Started With The Waves
But Tom wasn't the first person to have this kind of dream, and the history of Wave House really starts with the history of wave machines, wave pools and surf machines, which dates as far back as the 1920s.
Traditional wave machines, or wave pools, were often marketed as surfing wave pools, but were not very rider-friendly because they were designed to get as many people in the water as possible, and the waves were not the quality that real surfers were looking for. While splashing around and colliding in the dissipating wave energy that was created by pumps and plungers was an added thrill, none of these wave pools came remotely close to satisfying the needs of true wave riding enthusiasts.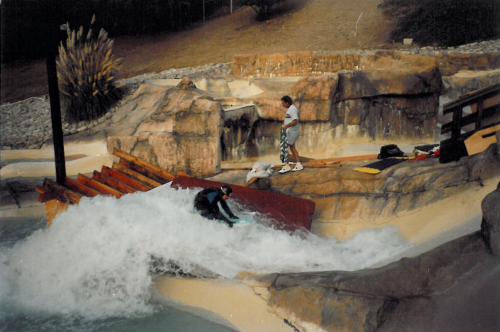 It wasn't until the late 1980s that anything came close to re-creating the thrills and challenge of the ocean. That was when Wave Loch and Wave House founder Tom Lochtefeld developed "sheet wave" technology. Growing up in La Jolla, California, and honing his technique in the barrel at his favored surf break, (a hollow left slab to the south of Windansea), Lochtefeld graduated with a law degree from the University of San Diego and set out on a real estate / waterpark / mad scientist career path to develop a new kind of artificial wave technology that would deliver the Big Rock barrel to the world.
After years of research and development and millions of dollars of investment, Lochtefeld debuted the FlowRider® and FlowBarrel® sheet wave surfing attractions. Tom's technology solved the biggest hurdle to bringing the thrill of surfing to the inland masses by creating a ride that provided ample energy and the necessary ride surface that fit in a relatively tight space. Wave Loch's surf machines harnessed the power and challenge of the ocean in closed systems that share the same footprint as a family pool.
Now there are over 200 FlowRider® and FlowBarrel® sheet waves around the globe.
Wave House Doors Open in 2001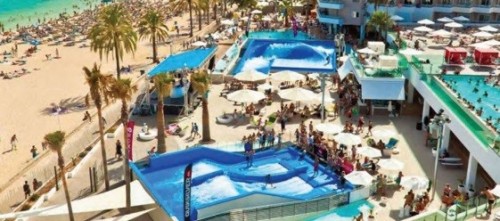 Initially using FlowRider® and FlowBarrel® as the centerpiece attractions, Wave House first debuted in 2001, and additional venues opened in a steady flow thereafter as the venue gained enormous popularity and exposure all over the world. A variety of venue models were established: beachfront, shopping mall, hotel/resort, with others under development at the time of this writing. And Lochtefeld's company, Wave Loch, continued to be the exclusive wave attraction equipment supplier to Wave House.
Bringing The Oceans Inland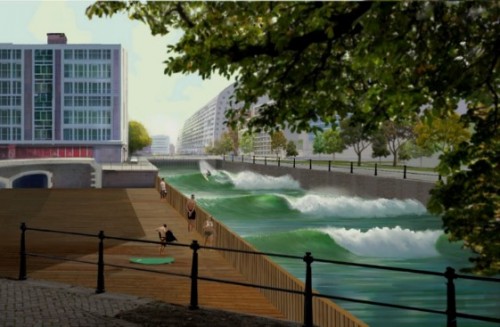 But for Tom Lochtefeld, the wild success of FlowRider®, FlowBarrel® and Wave House didn't stop his quest for the ultimate wave to bring the oceans inland. Lochtefeld still dreamed of bringing real ocean waves inland. In 1997, he patented his first hull-based design for a surfing wave pool, and began experimenting with different ways to achieve perfect ocean waves, patenting a variety of technologies. But just as no wine is released before it is properly aged, Tom was determined not to debut his new technology until it had been thoroughly tested, calibrated, modelled and proved.
A New Centerpiece Attraction
In 2014 he debuted SurfPool™ at the International Association of Amusement Parks and Attractions annual trade show, to rave reviews, in the form of a 40 foot scale model. Not long thereafter, projects were announced for Rotterdam, The Netherlands, with dozens more projects in various stages of development. The time for SurfPool™ had arrived. Today, Wave House is built around a centerpiece attraction of SurfPool™!
Wave House is still Tom Lochtefeld's public playground for his waves. And in 2016, surfing was selected to become a new Olympic sport for the Tokyo 2020 games. Tom Lochtefeld's story continues.