The Global Archipelago
Every Wave House is an island of surf, fun, music, sun, things to eat and drink and world class shopping. The Wave House archipelago is like an island chain in the Pacific: heated up and increasing, year by year.
There are Wave Houses in California, Chile, Singapore and Spain, with more in various stages of development. At the center of every Wave House is the wave-riding experience. Whether it's beginners getting their feet wet for the first time or some of the world's best board athletes bustin' airs, we've got a break that suits you on our FlowBarrel® or SurfPool™. Wave House brings the ocean experience to everybody, across the USA and around the world.
Dotted around the world are dozens of locations, islets of water parks, cruise ships, shopping malls and other installations which feature some kind of  Wave Loch or Surf Loch surfing wave technology. From the Northern extremes of Experium in Sweden to the ocean bound Oasis of the Seas or the very real oases of Wild Wadi in Dubai and Wahoo water park in Bahrain, our extended family covers the planet.
Scan the globe above to find a Wave House installation near you, or visit one in some distant exotic land, and go there to experience the Wave House way of life. See our complete Installation List here.

Wave House San Diego (USA)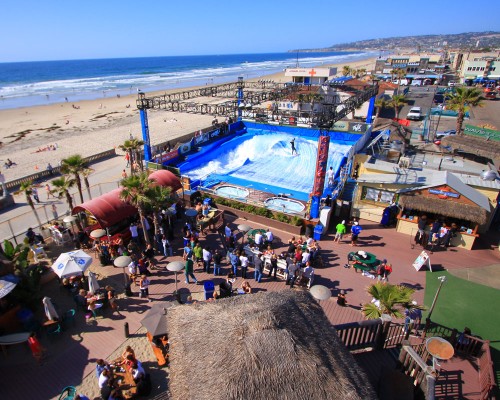 Wave House San Diego is the flagship for the Wave House lifestyle and the source from which all the new ideas and innovations flow.
In 2004, Wave Loch founder Tom Lochtefeld invested $4 million of his own money, borrowed another $4 million and put in a lot of sweat equity to restore the 18-acre, 70-year-old Belmont Park to its historic luster. He invested another $5 million and made a home for the FlowBarrel Bruticus Maximus – which had toured Europe and the world on SWATCH Wave Tour. The Bruticus took center stage and around that they built bars, restaurants, music stages and a lifestyle: sand under foot, sun and stars above.
Wave House San Diego is unique in the world of waterparks, but it's more than that. The Royal Palace of Youth Culture has become one of the most popular beach party venues in San Diego and California. This is the fun lifestyle Wave House is exporting to the world.
Wave House Santiago (Chile)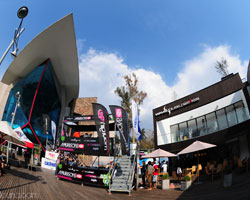 "Olas buenas" means "good waves" in Spanish, and that is an expression you will hear often in Chile. This South American country has more than 2,600 miles of coastline, and there are perfect waves from north to south.
Now there is a perfect wave in the middle, with the opening of Wave House Santiago at Mall Sport, a 100,000 square foot retail complex dedicated to board sports in northeast Santiago. More than an hour from the ocean but the next best thing, Wave House Santiago has a FlowBarrel left that is undoubtedly "Buena ola."
Santiago surfers who can't get to the beach – and even a few coastal Chileans looking for a challenge – are honing their skills and pushing the limits on the "future of nature" – 100,000 gallons of water flowing at 30 MPH – with the city's best pizza place on the shoulder. ""Que Buena!"
Wave House Sentosa (Singapore)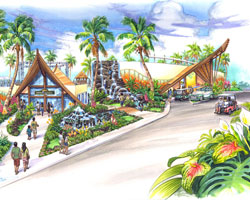 This island in the Wave House archipelago is actually an island – just south of Singapore. For centuries it was known as Pulau Blakang Mati – which meant "death from behind". Not a good name for an island designed to accommodate tourists, so in 1972 the name was changed to Sentosa: which means "peace in tranquility" in Malay.
Good call, although the peace and tranquility of this island of fun was rattled a bit when Wave House Sentosa cranked things up to 11. There's a FlowBarrel® left and a double FlowRider® at the center of a music, entertainment and retail complex in a place that has been blessed by nature: beautiful beaches, tropical sun, palm trees, spectacular sunsets and azure water.
All that was missing was waves, but the people of Singapore are in for a treat when they get a taste of the "future of nature."
Wave House Mallorca (Spain)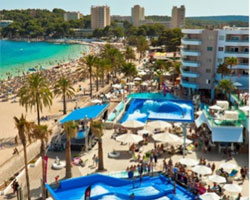 Our first Wave House Hotel opened in the summer of 2012, spicing up the Mallorca party scene with a quintessential Mediterranean beach front venue, a Double FlowRider®, a FlowBarrel®, four bars and an al fresco restaurant. The 184 room all-suite hotel is now ranked in the top 10 in the Balearic islands. This venue encapsulates everything the Wave House lifestyle is all about!
Global Venues
May 29, 2015